There are better choices than the default ringtone with your Android phone. It may be too soft, noisy, or irritating, so you may prefer to listen to it only when you receive an incoming call. Android's most customizable feature is the ability to change your phone's Ringtone, create personalized ringtones, or make unique ringtones specific to individuals. This article will show you how to alter the Ringtone on an Android phone.
What can you do to alter the tone of your phone or text message

For the iPhone or iPad Sounds and Haptics. Under the Sounds and Vibration Patterns section, you can tap on the sound you wish to alter. Options include Ringtone, Text Tone, New Voicemail, New Mail, Sent Mail, Calendar Alerts, Notification Alerts, and AirDrop.
You can tap on the Ringtone you'd like to link to that selection, and a checkmark of blue appears. Then you'll hear what it sounds similar to, and if you're not happy with it, you can select an alternative.
Certain people prefer diverse sounds to accompany different alarms. For example, a traditional phone sound that rings when a call is received, a screech for inbound mail, and a click to signal a text.
If you are using an Android smartphone, the procedure is the same. Navigate to Settings, then click on Sound and Vibration. Select Ringtone and Phone Ringtone, then select one of the pre-set options. After you press your desired option, the circle to the one you select will be filled. After that, tap Save.
What is the best way to create a distinct tone for an individual contact?

For either an iPhone or an iPad, you can open the Contacts app or your contacts by pressing the Phone icon in the app and then Contacts at the bottom of the screen, then tap your name to select the individual you would like to assign a ringtone for. On the upper right part of the Contacts card, select the Edit button, either Ringtone or Text Tone, to select an alternative sound.
Similar procedure with the Android phone. Start Contacts by pressing the Contacts icon in your phone or Phone icon and then Contacts in the lower right-hand corner. Select the contact you wish to call to contact, then tap the three horizontal dots in the upper left. From the menu, select Set Ringtone, after which you can choose the preferred Ringtone. Tap Save to save the contact's Ringtone.
However, not all Android phone functions the same. If you do not see an option to Set a Ringtone option under the horizontal dots menu, tap the contact's name once before tapping the icon with an "i" in a circle and edit the third option on the left corner of the next screen. After that, tap View More and scroll down until you can see Ringtone. It is necessary to allow the Contacts application to view images and other media stored on your device. However, you can select one of the rings from your smartphone.
It's your turn to show your ringer energy.

Which ringtones are the most unique you are currently adding to your Android smartphone? I'm a fan of Disney fireworks, but Star Wars blaster and lightsaber sounds can also be entertaining. After creating your phone's music, don't just end there. Keep it up and personalize the wallpaper and icons, too.
Make your phone unique by using an excellent Android launcher. Choose themes and then match the phone's sound notifications and ringtones with the iconography of the wallpaper and apps. There are some amazing icons for Android smartphones, like one that allows you to design unique icons.

How do I use a customized ringtone for Android?

Making an individual ringtone for Android is much simpler than an iPhone. Before we go into particulars, it's crucial to be aware that there could be some minor differences according to the Android phone you are using in light of the case that several different interfaces exist for customizing available on the market. Here, we will look at the standard Android user experience for describing how to make a custom phone ringtone. Most of the time, you'll have to follow these instructions on the device you use.
Select the audio file in .MP3 format you wish to make a unique-sounding ringtone. Then, place it in the "Ringtones" folder on the folder on your Android phone. This can be done via a PC or software for managing files for your mobile device.
Once you have the audio in the right folder, Navigate to the Settings menu > Sound and Vibration > The Ringtone for your phone.
Tap on the My Sounds option, then choose the audio file you want to use as your tone.
Hit the + (+) button, then press Save.
The typical duration of ringtones is 30 to 45 minutes. You may require trimming your files. There are a few dedicated applications accessible through Google Play that let you make your favorite track or melody into a Ringtone. It is also possible to use an editing software like Audacity for your computer to cut the audio.
Create Android Ringtones through the settings menu.
The next guideline will show you how to set the Ringtone in Android to make phone messages call alerts, notifications, and many more.
Navigate to the settings of your Android.

Select the option known as sound. You will see an option for vibrating and sound. The different versions of Android come with different features. Therefore, the options may vary from one phone to another.
Once you have tapped to sound, you'll be shown an option for ringing. When you click on the Ringtone, you'll be presented with a list of the pre-set ringtones accessible by the company. It is also possible to set ringtones in Android for notifications, messages, and alarms by choosing the appropriate selections.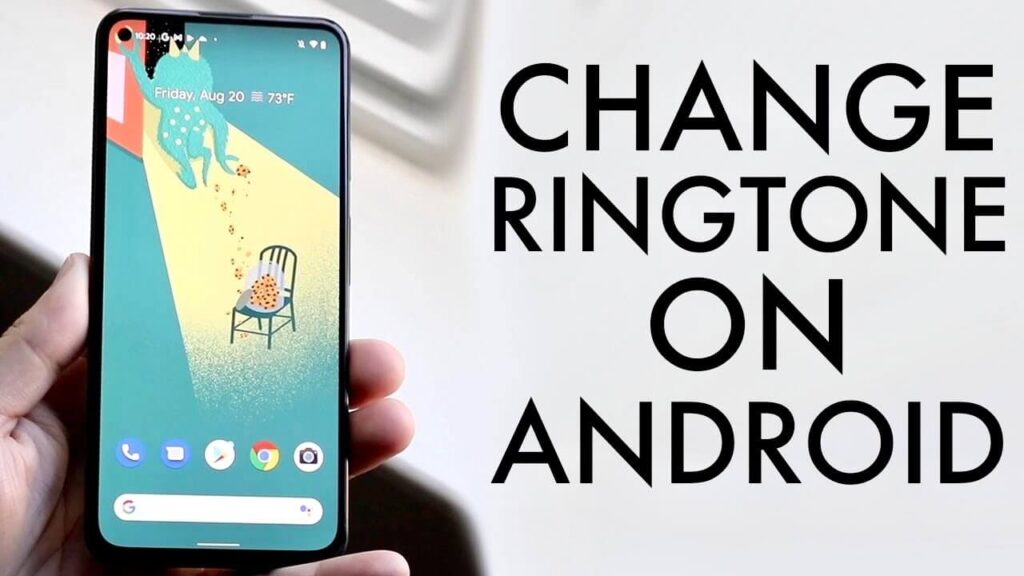 Make custom ringtones with the Music Player app.
Ringtones that you can customize are usually set if you want to hear the song you like whenever you get a call from someone. We understand the feelings that you want to hear your favorite music, so we will show you how to accomplish this function on Android easily.
Open the application Music Player on your phone.
Play the music you like and click on the three dots in the player. This can also be referred to as the capacitive menu. You'll be presented with the "set as ringtone" choice when you click on the capacitive menu. Click on it, and then your preferred Ringtone is set to your Android device.
What is the best way to create a specific ringtone for contacts on Android?
Your favorite person deserves a unique ringtone. If a certain ringtone has been selected, you will likely be aware that your beloved friend is calling you, allowing you to determine who they are. For setting specific ringtones to contact, follow these procedures.
Find an application dubbed"Contacts" on your mobile phone.
Choose the contact that for which you would like to assign the Ringtone
Now, you'll see a three or two-dotted menu that can be located on the right side of your list of contacts.
Click to connect the dots, and you'll be asked to change your contact information.
As shortly as you press on edit, ensure that you scroll down, then click on the tab called Ringtone
Now, pick your preferred tone and tap OK.
Because your Itel, TECNO, and Infinix have been built on the Android platform. The above steps to set up ringtones for your notifications call messages, alarm, or even a call are applicable.
Custom Ringtone
If you need help locating your desired Ringtone in the available options, It's because each person has different preferences. If you've got a particular customized ringtone that you'd like set, no matter if it's something that you've heard before or a preferred beat, song, or track, here's the best way to set it up:
Repeat steps 1 through 5 below, and then:
Select the menu icon + on the right side of the screen.
Choose the place for the custom ringtone you'd like. Android phones have three options: Recorder, File Manager, and Music. Select the desired location among the three choices, then choose your preferred Ringtone.
Choose the style of sound you'd like from the dialogue box that pops up. The music of a customized tone will personalize your phone according to your preference. The Ringtone could be an amazing track in the Music folder, a gespeichert beat from the folder manager, or another sweet song. Find and then click on the personalized-sounding Ringtone. After it has opened, you can select the music or track you want to make your Ringtone.